We are extremely pleased to announce a significant update to our flagship solution for visibility and micro-segmentation!
Below are some of the cool capabilities that we've added in this release:
Flow Explorer: The key to proactive security is to reduce or fully eliminate the unknowns. Using Flow Explorer, or FLEX for short, network and security admins can now explore every network flow in detail. Our powerful analytics engine collects and augments each flow with attributes such as session ID,  source and destination IDs, timestamps, data sent/received, policy decisions, and much more.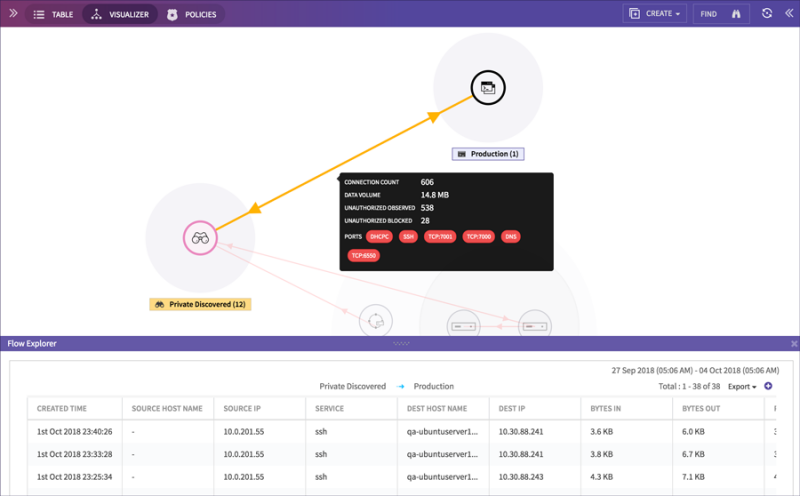 Visual policy authoring: As one of our design partners asked us, "If I have all the data on the flow visualizer, then why not let me operate on the elements, and create whitelist policies right there?" Touché! We now have what you asked Mr. Partner, and thank you for your feedback! Users can now click-click their way to enforcing policies that can adapt at scale!
Now we have our customers saying this:
"I have a very lean IT team.. your software can enable my team accomplish what we thought wasn't possible with our current man power"
Streamlined DevSecOps workflow: If you develop applications in-house, it is likely that your development and security teams don't quite agree on the right balance between agility and security. We started to see this pattern across our customers too – from retail giants to service providers.
Wouldn't it be wonderful if your security team just wrote policies based on attributes, and your dev team just used those attributes when spinning up VMs/Containers? With our attribute-based policy engine, we deliver an unique solution to this age-old point of disagreement.
Enhanced user experience: We spent thousands of hours with our customers and design partners optimizing our workflows to make our product super intuitive to use. From changing the menu format, to simplifying policy creation, we strived to ensure that you can be up and running from scratch in 10 minutes. We hope you like what we've done with our product!
Here's a sneak peak in 150 seconds:
Here's more information on how ColorTokens Xshield and Xprotect can secure your company against cyber threats.